Meet Sharelo, the Best Storytelling Platform for Sales and Marketing Teams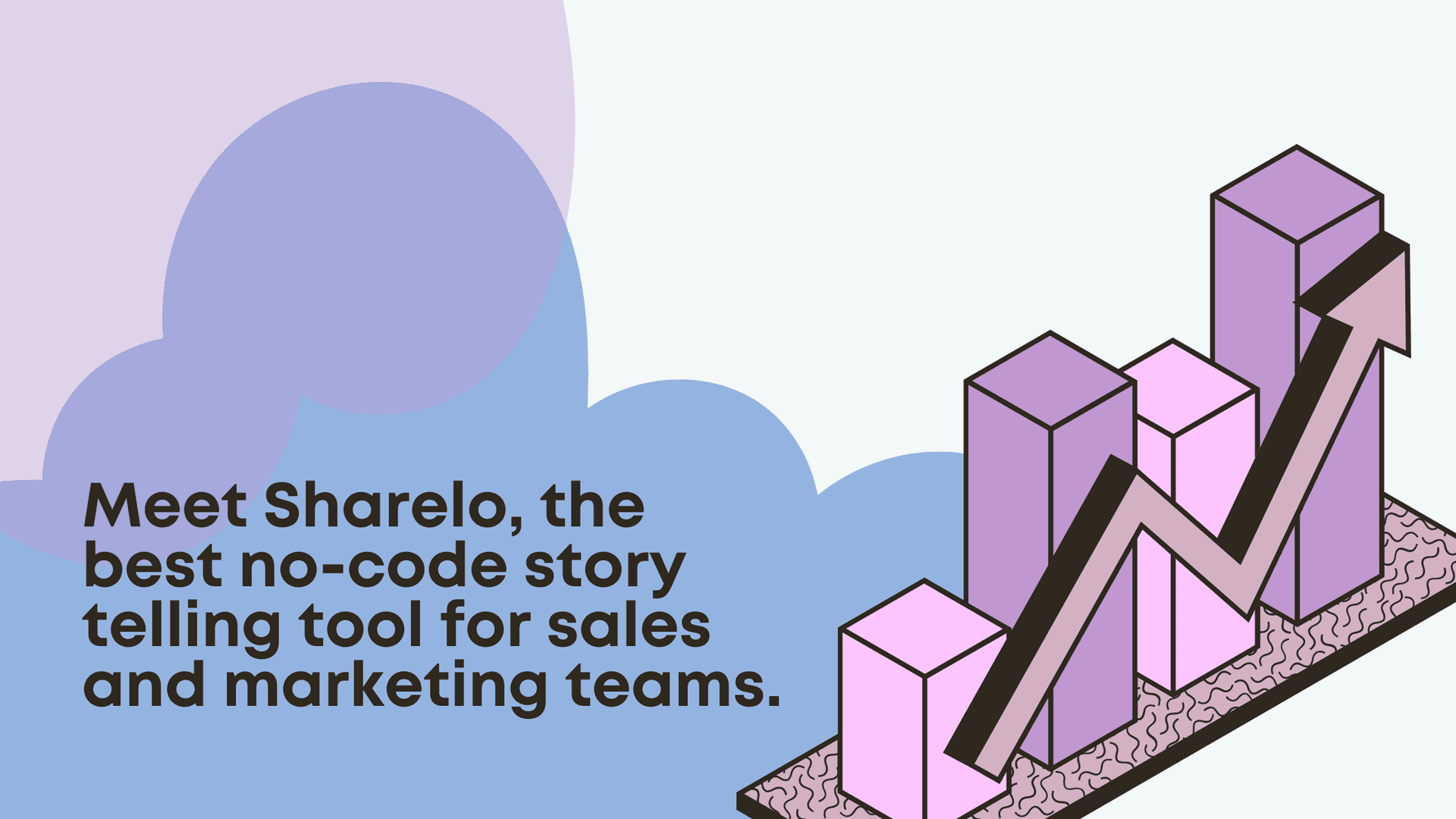 Hi everyone! I'm Hiro, the creator of Sharelo. In this post, I'm going to introduce Sharelo and how it can help your sales and marketing teams to acquire more customers!
Sharelo helps companies tell stories, qualify leads and convert them faster.
One of the most challenging aspects of virtual sales and digital marketing is building relationships with potential customers. Sharelo is an easy-to-use interactive story platform that allows you to tell the best part of your service to your potential customers efficiently and effectively.
Sharelo is a service that allows you to combine different content, such as videos, slides, and forms, into a single story without writing code. You can use your existing content from the apps you are using daily. So you can make the most of what you already have. Sharelo allows you to provide information tailored to your prospects' interests rather than being a one-way communication, making your virtual sales and digital marketing processes more efficient and effective.
Three things you can do with Sharelo
Quickly send personalized videos.
Sharelo allows you to combine multiple pages of content, so you can easily send a message from the person in charge in addition to sales materials, white papers, and other slides. In other words, you can conduct sales and marketing with a "human touch," even in an online or remote environment.
Embed multiple contents with external tools without hassle.
Many people feel that creating content from scratch is time-consuming, but with Sharelo, you don't have to worry about that. Sharelo allows you to easily integrate existing content with external tools such as Google Slides, YouTube, and Canva to create a single story.
Autopilot lead generation and qualifications
*Data Analysis part is under development and coming soon.
One of the hardest parts of sales and marketing is determining a prospect's interest, and with Sharelo, you can see how they react to your questions and capture leads. With Sharelo, you can see where your prospects are in the video and which chapters they have watched. Sharelo also has an embedded scheduling tool. There is no need to prepare a separate scheduling form or send an email. You can get an appointment for a business meeting with just one video.
See Sharelo In Action
Here's an example introducing different features of Sharelo through interactive videos, then asking the viewers to book a meeting with Calendly.
Why we started Sharelo?
Sharelo was made by Atsuhiro Teshima(Hiro), a Japanese software engineer with a background of 3 years in BtoB sales.
During my time in sales, I was tasked with calling and contacting key people based on a list. Even if I was lucky enough to contact a key person, I was not quite sure whether or not they were interested. Even if I found out they were interested, it was still challenging to keep in touch with them on an ongoing basis, according to their timing.
Even today, offline sales methods have not changed that much. However, the environment surrounding sales and marketing has changed a lot after the pandemic. There are more sales opportunities in online and remote environments and fewer offline-sales opportunities.
While the reduction in travel time has made some sales processes more efficient, it has also made them less "effective." Online salespeople who don't share the same time and location have harder time building relationships with prospects.
In this respect, Sharelo makes it possible to contact and provide information according to the interests of prospective customers. Sharelo is not a one-way information-sharing service, so there is no risk of damaging the prospect's impression of you. Sharelo is interactive, and you can visualize your prospects' interests.
Sharelo can be used not only as a sales tool but also as an excellent marketing tool. Sharelo will help you to conduct your sales and marketing activities more efficiently.
More use cases
Sharelo is not limited to sales and marketing use cases. We believe that Sharelo can be used for E-commerce, recruiting, customer support, investor relations, and more. By combining static content, such as slides, with dynamic content, such as video messages, the appeal of services and companies can be conveyed more easily. For example, in the case of recruiting, by placing the "Meet future teammates" and "Take a virtual office tour" choices, you can provide information that matches the interests of potential hires. This will not only increase the number of applications but also help prevent mismatches after hiring.
What is coming next?
We plan to add many features to make Sharelo more convenient and effective. Check our public roadmap to learn more.
Here are some of the major coming features.
Advanced Analytics and Data Integrations
We are advancing our basic analytics so you can analyze how each customer reacted to your story and which story is generating the best results. Additionally, we are working on Data Integrations to send data to your CRMs and data pipelines.
Integrated emailing feature
With this feature, you can send emails to potential customers with a personalized video message and a story.
Sharelo is currently in beta, but it is fully functional already, and you can try it for free. We plan to roll out pricing plans gradually and plan to offer large discounts on early users.