Interactive Video Messaging for Sales
Empower your sales team with engaging video messaging, replicable pitches, and smart lead nurturing – all with minimal learning curve.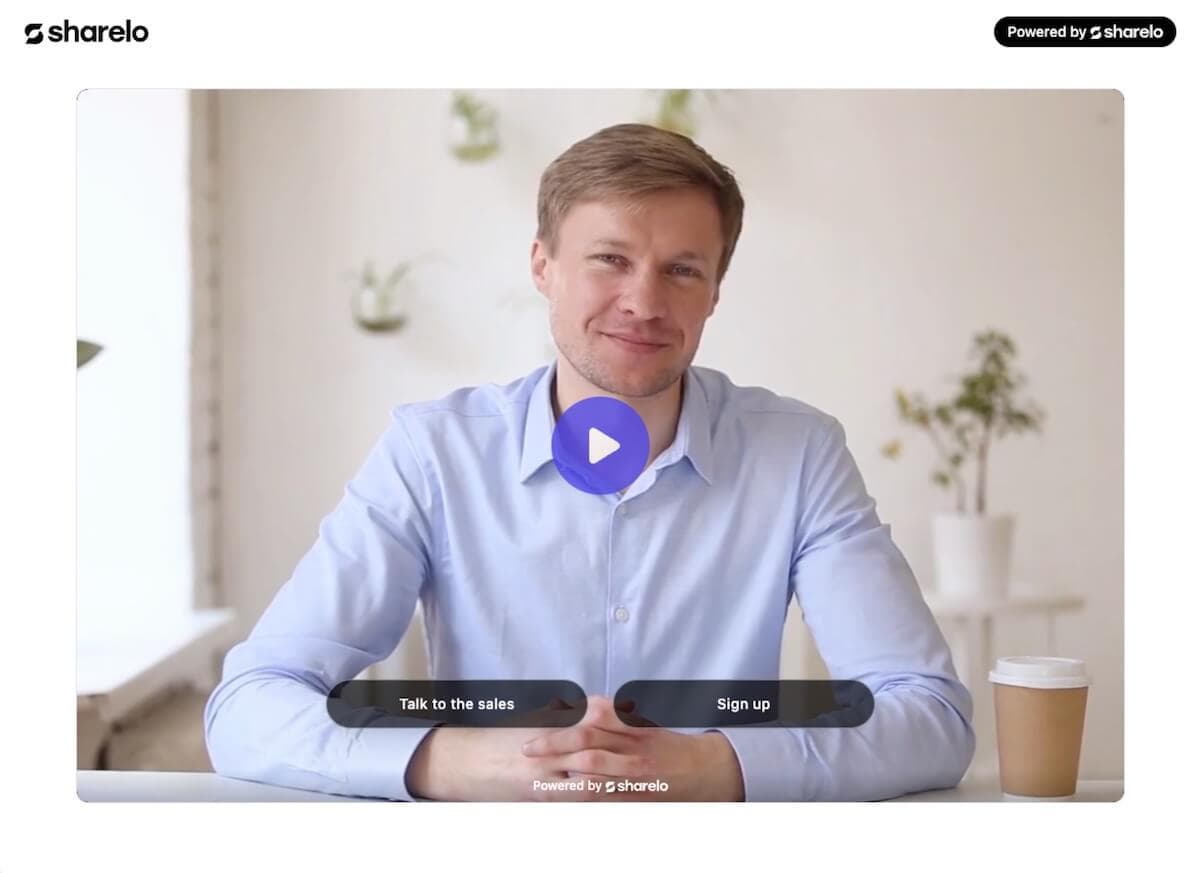 Sharelo for Sales
Unlock the Future of Sales with Interactive Video Messaging
Engage and Convert with Dynamic CTAs
Boost your outreach with Sharelo's interactive video messaging. Not only can you create captivating sales pitches, but you can also embed direct CTAs within your video. Allow prospects to book meetings seamlessly, without ever leaving the video, making their journey to conversion shorter and smoother.
Shift from Informing to Closing Deals
Prospects who experience Sharelo's interactive videos come to sales meetings well-prepared and motivated. Sales reps can focus more on providing solutions, leveraging insights from the videos, and accelerating the decision-making process.
From One-Pitch Wonders to Scalable Success
No need for repetitive meetings to explain the basics. Sharelo lets you capture your best pitches in a format accessible anytime, allowing sales reps to focus on crafting tailored solutions.
Use Cases
How Sharelo Empowers Sales to Transform Prospects Into Wins
Warm Up Cold Emails
with Interactive Video
In a sea of text-based cold emails, set yourself apart. Use Sharelo's interactive branching videos to grab attention immediately. Not only does this approach drastically improve open rates, but it also ensures your sales messages are consumed in an engaging, tailored manner by each prospect. Turn the routine cold email process into an interactive experience that resonates.
Replicate

Top Sales Pitches

Prep Your Prospects: Before the meeting even begins, give your leads a taste of excellence. Sharelo allows sales reps to replicate successful pitches, ensuring every potential client gets a consistent, high-quality introduction to your offerings. This sets the stage for a more productive conversation during the actual sales meeting.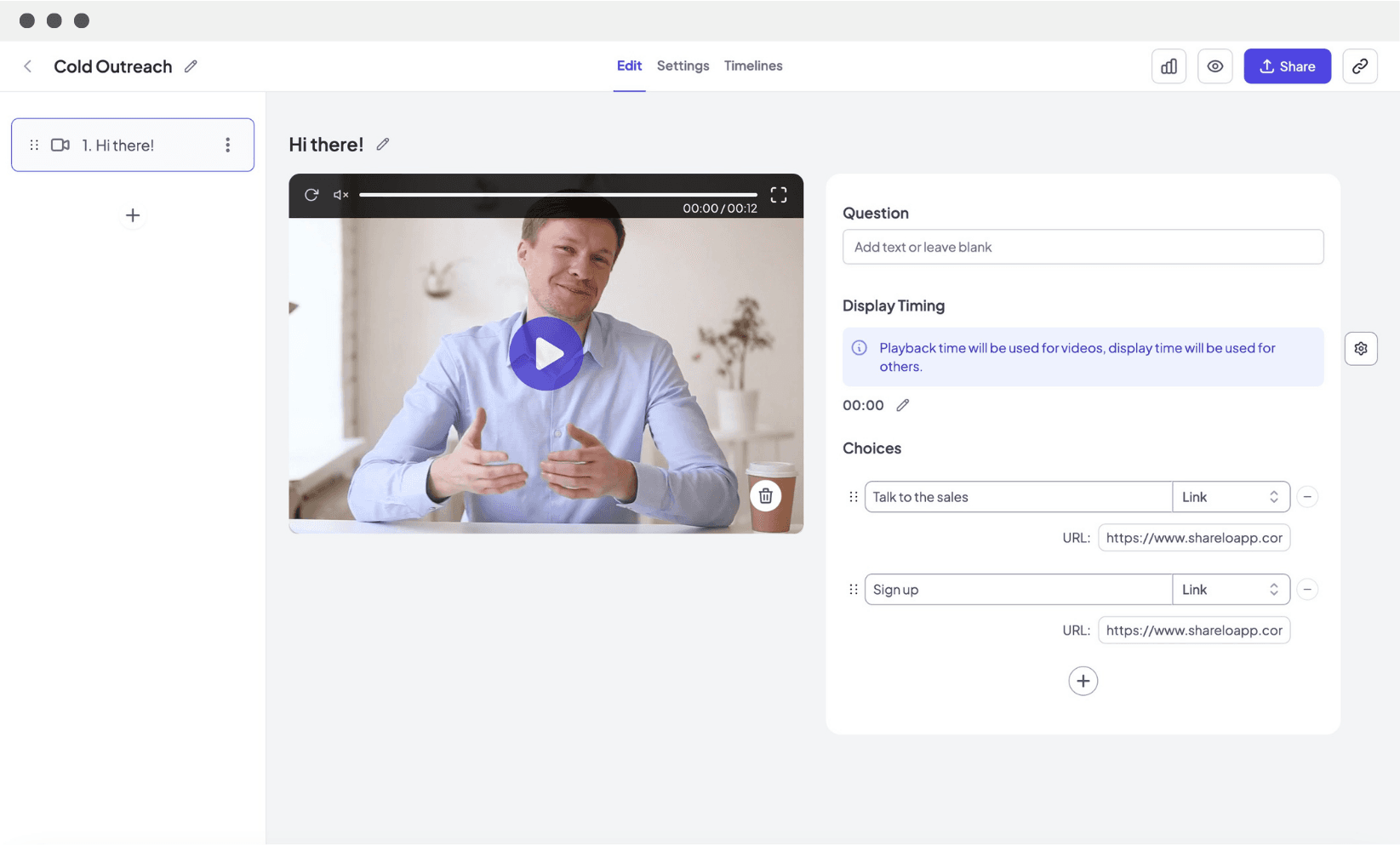 Streamlined

Post-Meeting Follow-ups

After sales meetings, maintaining that connection is crucial. Sharelo's interactive video follow-ups enable sales reps to succinctly recap key points, further nurturing the relationship. Engaging video summaries keep your pitch fresh in the minds of your prospects, making it easier to transition to the next phase when they're ready.
Insightful User Tracking

for Precision Nurturing

Knowledge is power in sales. With Sharelo's user tracking, sales reps gain valuable insights into viewer intent based on their interactions with branching videos. By understanding which parts of the video engage them most, reps can tailor their approach, ensuring subsequent outreach is precisely aligned with prospect interests, thus speeding up the sales cycle.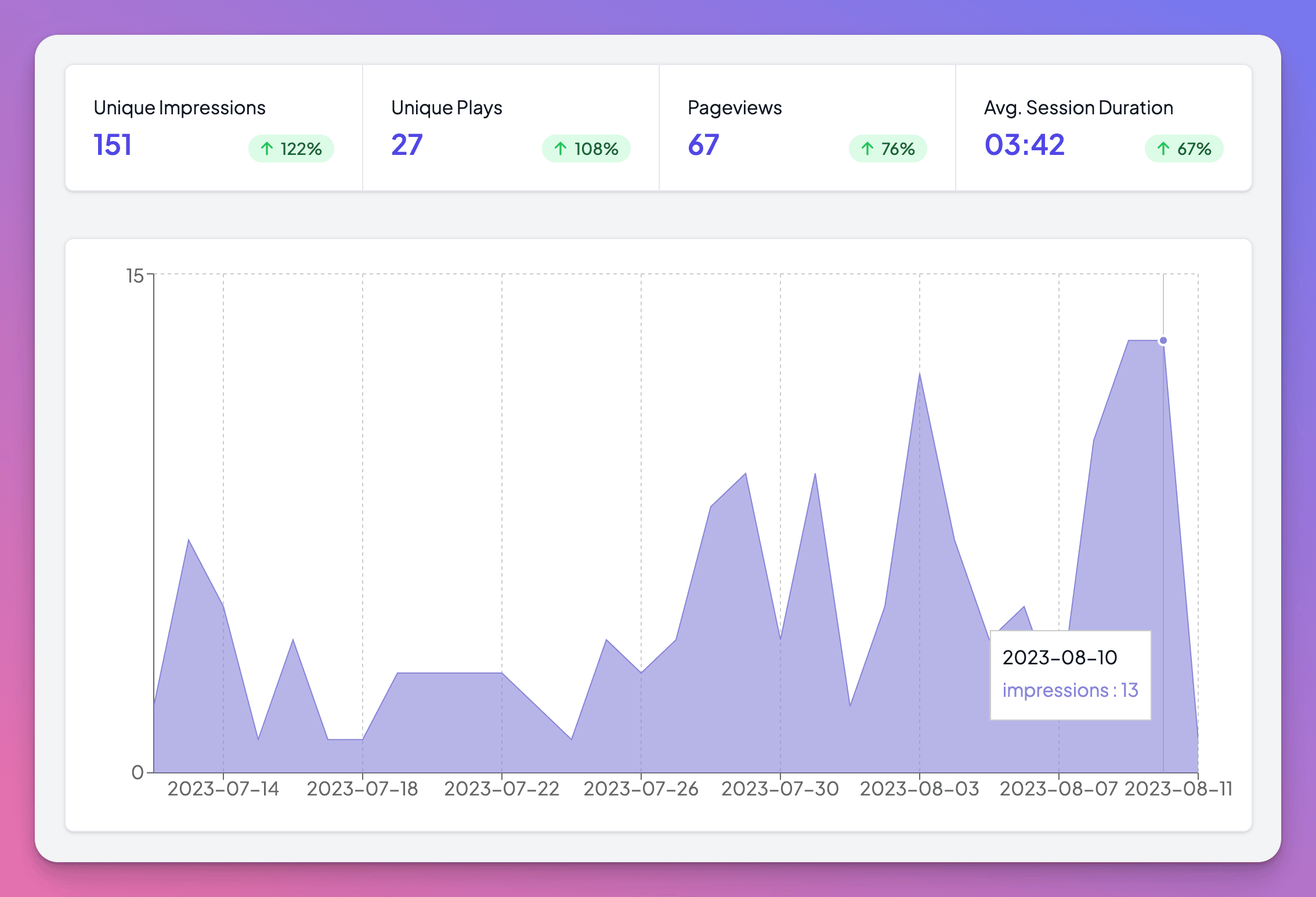 How Sharelo Works
Discover how effortlessly you can craft engaging interactive videos. Dive into our quick product demo now.